It's all about vintage drums and the collectors who save them...

Jim Messina's Vintage Drums Talk.com

Collector's Showcase:

Dave Brown
My name is Dave Brown and I'm from the UK.
My interest in drums/drumming started at an early age,
I was five years onld when I had my first drum lesson,
from my first teacher Jack Wild from Preston, Lancashire.
My first real gig was at 7 years old and I've never stopped
playing or gigging since. amd I'm now 47.
My interest in vintage drums began in the early 1980's.
Not having much money to afford the drums I wanted to
buy all I could do was dream about buying/owning them.
Click on any photo for a larger version
Check this page often for more features from Dave's fine collection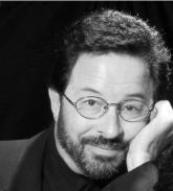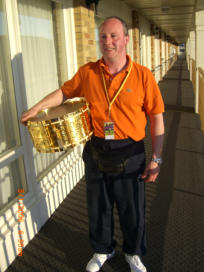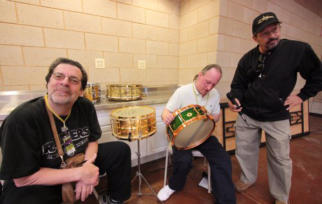 I began collecting seriously in 1995 when I bought my first
real "vintage" set. This was a late 40's Slingerland Radio
King set in WMP, 22,13,16, and 5x14. That's where my
love for Slingerland drums came from, and also that my
hero Buddy Rich played them on and off in his career.
So lets start by showing you some of my collection.
Hopefully this will be an "on-going" page and I hope you
all enjoy looking at my drums. If any of you feel like
contacting me then please do so via this website and Jim
will forward any correspondance onto me.

Slingerland late 20's 5x14 White Marine Pearl Tone Flange model

Drum purchased from Ebay some years ago. It needed very little cleaning but I did strip the drum down as always and
cleaned everything to my satisfaction (I'm very fussy). Hardware just needed polishing up, the shell just had a light
clean with furniture polish, and job was done. Enjoy. Stay tuned folks, more drums coming SOON.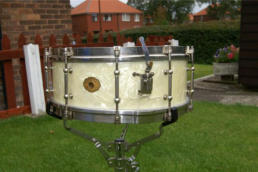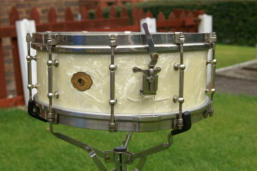 1929 Ludwig & Ludwig Peacock Pearl Set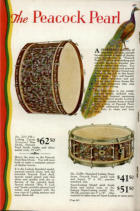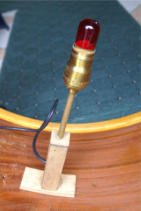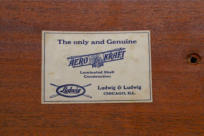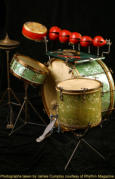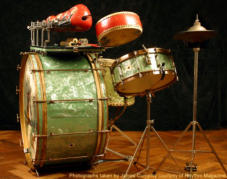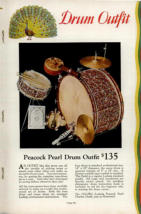 I bought this set in March 2000 after receiving a phone call from my good buddy and fellow collector
Rick Hines from Connecticut. Rick found this set in a local music store and called me to ask if I was
interested in it. YOU BET I was !!
Set contains :- 14x5, 14x26. and came with all of the accessories you see in the photo, two tone
wood block and holder, suspended cymbal arm and cymbal, spring crash cymbal holder (not pictured),
canvas bass drum case (not pictured), and snow shoe with cymbals. The set was in very good
condition just needed to be stripped down and cleaned. I have since stripped it down again and
re-cleaned everything down to the last washer.
Also managed to find an original 26" Ludwig & Ludwig painted head to finish off the set.
I bought the set as you see it here, the matching sea green trap table is a
hard item to find in any color let alone being lucky enough to have it match the set.
Snare is the Fancher model, painted head is NOT Slingerland, it's Ludwig & Ludwig.
The traps on the table just complete the set.

Slingerland 1930s 5x14 Tone Flange, 28x14, 12x14.