Collector's Showcase:

Mike Curotto
Jim Messina's Vintage Drums Talk.com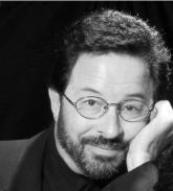 This Page Begins with Comments from the 2012 Chicago Drum Show
Click on any photo for a larger version.
1935 Ludwig & Ludwig Terra Cotta Standard Model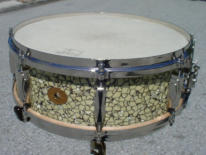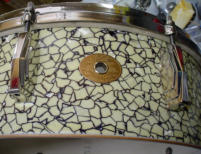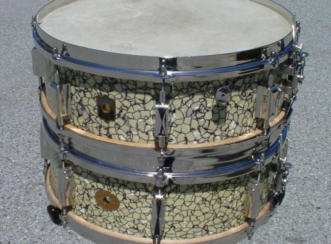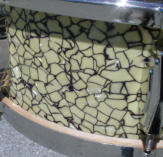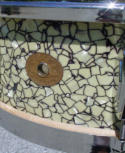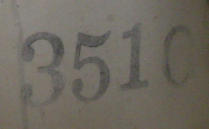 Hi all,
Ah, the Chicago Vintage Drum Show, one of my absolute favorite places to be! After a few months of negotiations this
drum was purchased at the 2012 Chicago Vintage Drum Show from my friend and fellow collector Bun E. Carlos.
1935 LUDWIG & LUDWIG 5x14 "TERRA COTTA"* STANDARD MODEL
*"Terra Cotta" is the unofficial name that has been given to this un-cataloged Ludwig & Ludwig finish. As we know, there
were a number of L & L finishes that were mentioned briefly in various Ludwig Drummer Magazines but never made it to
any L & L catalogs. Streaked Opal was a catalogued finish from 1930-35. When I saw the photos of this drum my first
thought was that maybe this was a later run of Streaked Opal but Bun E. came up with a great rebuttal, he said: "If it was
a later run of Streaked Opal then why have we not seen any other examples?" Makes sense to me...or...could this be a
special finish to honor Ludwig & Ludwig's Silver Anniversary? A one-off special order? As of this writing this is the only
example known to exist in this finish (that is not to say that there are not other examples out there**). Thoughts?
On a lighter note, Joe Luoma called it "Streaked Opal Squared."
The Shell:
The finish is in great shape but I was still able to clean off a few layers of age. You know by now, Maguire's #17 Clear
Plastic Cleaner and #10 Clear Plastic Polish brought everything back to life. The finish did have two small areas where
there was some "lifting" so I had my friend Al Schneider (the original Drum Doctor) do the dry towel and hot iron trick,
everything turned out fine. The solid mahogany shell is in-round, the white interior is clean and there is a very nice 3510
(October 1935) date stamp. The brass oval badge is right at the transition period just before the L & L white enamel
badge era starts.
The Hardware:
Most of the original nickel plated hardware is in good shape but still needed the normal cleaning and polishing. The
nickel plating on the bottom rim was pretty "cloudy" so I had Les Hadnagy at Avenue Plating put it on his buffing wheel
and the nickel came back to life. The 8 Silver Anniversary-era Imperial lugs are tapped with no inserts. I am happy to
announce that all 8 lugs are in great shape and are not stripped. Here's an important tip: Don't let stripped Silver
Anniversary-era Imperial lugs be a deal-killer, negotiate appropriately and buy the drum. Your remedy is simple,
a 12-24 Hela-Coil, just make sure that you have someone that knows how to do the correct repair/installation.
Of-the-era top and bottom Ludwig calf heads and James Snappi wires rounded out this cleaning/restoration.
Postscript:
**Well, here we go...a few days prior to the Chicago Show I got an email and some photos from well known
collector/dealer Doug Carrington, it read: "I thought that you might be interested." To my surprise and delight there
it was, a 1935 Leedy Broadway Standard in the same finish! We arranged a deal and the drum was also purchased
at the 2012 Chicago Vintage Drum Show. Now there are two known examples. Stay tuned for the rest of the story but
for now I've included a photo of the Leedy next to this Ludwig & Ludwig.

*Hi all,
Here's rest of the 2012 Chicago Show "Terra Cotta" story. I ended my last article with: "Well, here we go...just prior to the
Chicago Show I got an email and some photos from well known collector/dealer Doug Carrington, it read: 'I thought that you
might be interested.' To my surprise and delight there it was, a 1935 Leedy Broadway Standard in the same finish! We
arranged a deal and the drum was purchased at the 2012 Chicago Show. Now there are two known examples."
1935* LEEDY 5x14 "TERRA COTTA" BROADWAY STANDARD MODEL
*A special thanks goes to Harry Cangany who was kind enough to give me his take on this drum: "I would say the Leedy is
1935 since the strainer is the second series Broadway Standard strainer. I quickly looked at catalogs (I don't have all of them)
and at Rob Cook's collection of Topics and see no mention of the drum, the finish, or any picture of an endorser holding one.
The two drums were probably built on opposite sides of the same work table in Elkhart...I wonder if salesmen used them as
samples for feedback, or selected endorsers were given the drums? Interesting that each was in the Midwest."
The Shell:
The finish is in very good shape and required only a basic cleaning and polishing. There are two areas where the finish has
lifted so once again the task was given to Al Schneider (The Original Drum Doctor) to smooth things out via his hot iron and
warm towel technique, the same as he did on the L & L "Terra Cotta" drum in my previous article. The L & L and Leedy snare
were actually delivered at the same time so just to add some friendly pressure and to keep it real for my friend Al, I handed
both shells to Al and informed him that: "these are the only two known examples of this finish in existence at this time." He can
handle it as was the case and both shells turned out fine. The white interior is clean but there is no date stamp. The shell is
in-round and the badge is clean with a tight grommet.
The Hardware:
All of the nickel plated hardware is in excellent shape and cleaned/polished up nicely. I was happy to see that the 8 "X" (box)
lugs were in great shape as these lugs can get pretty grungy. I did notice that the set screws inside the lugs were missing but
the inserts and springs fit perfectly and the lugs are fully functional so I just left everything as is. The top and bottom rims are
fine with a nice strong "Broadway Standard" stamp on the bottom rim. The tension rods are square-headed and are the smaller
.18/10-24 versions that Leedy used on these type of drums. The 4-point Broadway Standard strainer works fine and the butt
plate is in good shape also. I found it interesting that there is an "L" stamped on the neck of the strainer thumbscrew just like
the L & L P-338s.
Of-the-era Leedy HARDWHITE calf heads and James Snappi wires rounded out this cleaning and light restoration.
A final question to cogitate on:
I found that the finish on both of these snare drums had a few areas where the finish had "lifted/separated" from the shell.
These two snare drums were probably assembled across the way from each other and quite possibly at the same time so is
it just coincidence or was this run of "Terra Cotta" finish never mass produced because of this lifting problem?
Postscript:
Well, what was supposed to be one "Terra Cotta" snare drum has turned into two, and from the same location! This is totally
fine with me..."the more the merrier" is my motto! I am glad that I was able to share my "Terra Cotta" stories with you.
Feel free to contact me with your thoughts, theories and comments.
Enjoy!
Mike

1935* LEEDY 5x14 "TERRA COTTA" BROADWAY STANDARD MODEL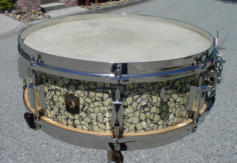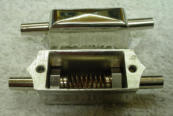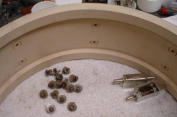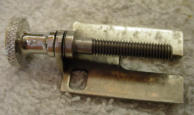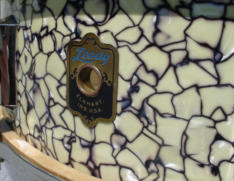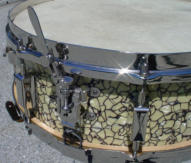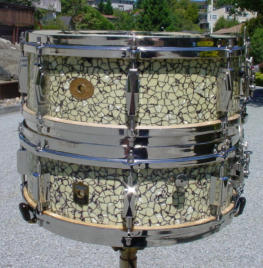 Hi all,
Here's another snare drum that just became part of the collection. Unlike my previous drum deal/exercise in futility,
this transaction was a piece of cake. Thanks goes to my friend and fellow collector Mark Cooper for releasing this drum
from his vault. This is how a drum deal should go: Mark and I talked about it on Mon., photos arrive late Mon., we strike
a deal on Tues., funds sent and drum shipped on Weds., drum arrives on Fri...all this in the span of 5 days and I now
have a new weekend snare drum project! This snare drum represents an era in the Ludwig & Ludwig Drum Company
that was not one of L & L's shining moments. On the other hand it is a very rare snare drum that saw a limited production
life (1939-41)...this is what I enjoy collecting.
1940 LUDWIG & LUDWIG 6.5 x 14 BLACK GOLD MULTI-COLOR MODERN BI-TONE SNARE DRUM
THE SHELL:
The Black & Gold Multi-Color finish is in very good shape for a 72 yr. old Duco shell so a light cleaning and minor touch
up was all that was needed. This is a ply shell with a clear maple interior that is also very clean and there are two date
stamps, 102140 and 4010 so we are looking at October 21, 1940. The white enamel L & L badge is clean with a tight
grommet. I love the crudeness of how the L & L workers marked (and splintered) the area where the grommet hole was
to be drilled..."X" marks the spot. Times have definitely changed with regards to the presentation of the interior of a drum.
Ludwig & Ludwig stated in their 1940-41 catalog that this was a

"quality snare drum"

at a

"low price, (30.00)"

so there
were only 3 combination shell/lug finishes that were offered (see catalog excerpt for the full description). I have seen
1 or 2 exceptions to this, these drums were finished in what was called Crystal Pearl with white (Ivory) lugs and showed
a lot of wear and tear.
THE HARDWARE:
The 8 black plastic lugs are in great shape, have no cracks and are not stripped...yeah! Thanks to Mark Cooper
for the following analysis:

"In 1939 Ludwig & Ludwig experimented with Bake-Lite (early plastic) lugs on their
Modern Bi-Tone Drums.

These lugs came in a few different colors and contained metal interior parts. The Bake-Lite
outer cover was just a facade. The Bake-Lite lug was quite fragile and this 'experimentation' did not last long!
Very few examples exist today."

I wasn't sure what to expect when I took the "lugs" apart but the actual business parts
of the lugs are very sturdy, crude but sturdy. The plastic "facade", although of no mechanical use, does add to the overall
look of the shell. I did discover a small cocoon in the corner of one of the plastic lugs, "Minutia" is my middle name.
The nickel plated tension rods, washers, collar hooks, single flange rims, butt plate and P-338 strainer were all in great
shape and were very easy to clean and polish. The drum came to me with silk-wound snares but the L & L 1940-41
catalog states and shows that this

No. 19

model came with

"Snappi-Snares".

Oh, the dilemma, the quandary, the angst
as to what I should do...keep the silk-wound snares or put on a set of Snappi-Snares? I realize that it could go
either way but in the interest of catalog-correctness I chose to use of-the-era Snappi-Snares. Of-the-era top and bottom
calf heads rounded out this cleaning/restoration.
Enjoy!
Mike Curotto
1940 L&L 6.5x14 BLACK GOLD MULTI-COLOR MODERN BI-TONE SNARE DRUM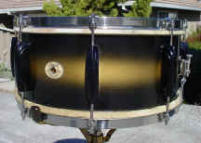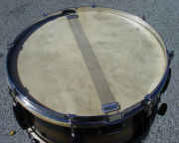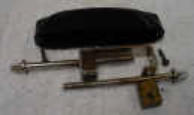 1928-32 NO-NAME (SLINGERLAND?) 4 x 14 BLACK LACQUER 10 LUG
TONE FLANGE MODEL
THE SHELL:
Let the weirdness begin! First off, the shell is finished in Black Lacquer as opposed to the 2 Sea Green/1 Gold Sparkle
Slingerland versions that are in my collection. The finish has seen better days so I cleaned, polished and touched up the
shell as much as it would allow but I did leave the shell more "rustic" as that was what my gut was telling me to do with
this restoration. The shell is 3-ply with maple reinforcement rings. This is a first for me as the other three 4 x 14 TFs that I
mentioned are all solid mahogany shells as are all of the 5 x 14 and 6.5 x 14 Artist Model TFs that I own or have seen. I
also own a few solid maple versions. The shell depth actually measures 3 3/4", most likely to accommodate the Tone
Flange/brass ring. The shell has no badge and no air hole. There are no plugged holes where a badge or an air hole (or
both) would have been placed from the factory. The TF side of the shell has the normal flat "bearing edge" but there are
12 brass brads that are evenly spaced around the shell. Every other TF Model that I own or have seen has the brass
brads (less common) or the 10 brass, slotted wood screws that are lined up with each of the 10 tube lugs. I've noticed the
brass brads on only a few of my drums. Mark Cooper seems to think that the brass brads are the predecessor to the
brass screws as Slingerland probably figured out that brass screws were less expensive and easier to obtain therefore
cutting the manufacturing costs down. "Bean Counter" Mark strikes again with an astute observation.
THE HARDWARE:
Nothing out of the ordinary for this no-name drum. The nickel plated hardware is the same as one would see on any
Slingerland or Liberty Tone Flange Model. The hardware is definitely Slingerland. The 3 pt. strainer is the correct era with
the small thumbscrew that attaches to the correct era threaded post on the strainer arm. Under all of the rust I discovered
that he extension lever is stamped with the Slingerland USA logo, this is not common on the non-Slingerland TF Models
and other non-Slingerland models as the extension lever was usually left blank. I left the "bend" in the extension lever as a
nice artifact from a drummer of yesteryear. The butt plate is your normal Slingerland (slightly different from L&L and
Leedy) version. The 10 tube lugs look like Slingerland and are the same spacing (1 1/4" c-c) as the 4 x 14 Slingerland
drums of that era. The rims are the heavy nob double flanged rims that were standard equipment on the Slingerland 10
lug Artist Models. I noticed a slight difference with the lug, strainer and butt plate internal attachment hardware on this
drum. On my Slingerland/Liberty snare drums the attachment hardware is an 8-32 screw, a washer and a lock washer. On
this drum the attachment hardware has an added washer that is smaller than the washer that lies (lays?) against the inner
shell. So we have an 8-32 screw, washer, smaller washer and the lock washer. Yes, Geek-A-Tron minutiae but I love this
stuff! The tension rods, washers and collar hooks are also Slingerland. All of the hardware was in decent shape with some
rust so I cleaned and polished as best as I could but again also choosing to leave the hardware somewhat "rustic" to
match the shell. I did hit the tension rod threads with some clear lacquer to stave off any future rust. The Tone Flange is
the solid brass version (earliest of the 3 versions to my knowledge) and is in great shape. The brass ring that goes under
the Tone Flange looks to be original.
A final observation comes from Bill Wanser who poses the question: could this be a home brew, to wit parts bought from
Slingerland that were then installed on a shell that was lying (laying?) around? An argument against that would be that the
top "bearing edge" of the shell looks like it was prepared at a factory to receive a Tone Flange/brass ring. If only these old
drums had memory chips in them.
The batter calf head was in great shape and still fit perfectly onto the Tone Flange (thank you gods of vintage snare drum
collecting!). An of-the-era slunk (bottom) head and Snappi Snares rounded out this quirky specimen of yesteryear.
Enjoy!
Mike Curotto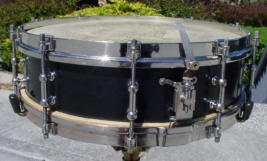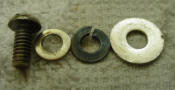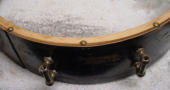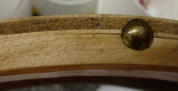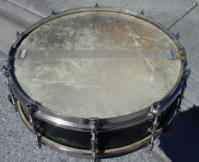 Hi all,
Here's a snare drum that I have been looking for since my early days of collecting...thank you Ebay! This one wasn't
cheap but I wanted it so here we are.
A little bit of history here in that the date stamp on this drum is 4112 (December 1941)...Pearl Harbor, WWII and The War
Powers Act (Dec. 18, 1941) which caused the 10% Law that proved to be a pretty sorrowful era in the history of American
made drums. It looks like this snare drum made the cut and was obviously built just before the "10% Law" manufacturing
restrictions were enacted.
1941 LEEDY 6.5 x 14 AUTOGRAPHS of the STARS BROADWAY PARALLEL MODEL
THE SHELL:
Fortunately the Autographs of the Stars wrap came to me in very good-plus condition with no cracks or cancer spots. The
wrap did need a good cleaning and polishing though but I was very pleased with the outcome. The white interior was also
very clean with a strong 4112 date stamp. The Leedy badge was in great shape with a nice, tight grommet.
THE HARDWARE:
The drum arrived with all of the original hardware. The nickel plating had that patina that is very hard to clean and polish
by hand so I took the hardware to Les at Avenue Plating so he could "color" the nickel. "Color" in plater's jargon means to
clean and polish the nickel plating back to its original bright polished finish. As you can see Les came through like a
champ. The last generation (1939-46) Leedy Broadway Parallel mechanism works perfectly and is built like a tank! This
mechanism is pretty straight forward but since this was my first dis-assembling of a later Broadway Parallel mechanism I
needed to draw a few diagrams and label a few screws but all in all it turned out to be an easy dis-assembly/re-assembly.
I was able to find a pair of era-correct Leedy Hard White calf heads to round out this light cleaning and restoration.
As a lot of you already know these Leedy Autographs of the Stars snare drums are very rare and are easily in the same
category as the Ludwig & Ludwig Top Hat & Cane (Swing Sensation) snare drums of the same era.
Enjoy!
Mike Curotto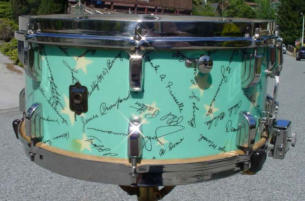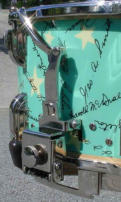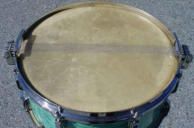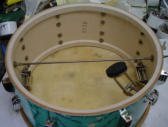 1941 LEEDY 6.5 x 14 AUTOGRAPHS of the STARS BROADWAY PARALLEL MODEL
Hi all,
Here's a new one that just entered the collection (thank you Ebay). I always thought that Slingerland manufactured the
parts for various drum companies including the Liberty Musical Instrument Corporation. But alas, I was mistaken.
Check this out:
LIBERTY MUSICAL INSTRUMENT CORPORATION:

Chicago, IL company founded in 1926 from the joining of two
Boston firms--NOKES & NICOLAI, and JOSEPH PACHECO with the Liberty Rawhide Company, a major Chicago
supplier of banjo and drum heads from 1920. Contemporary articles state that Liberty had purchased the "stock and
good will" of the other two companies, and moved the stock in trade and equipment to new quarters in Chicago; each
man was to have responsibility for his own end of the business, while John W. Placko, president of Liberty, was to
supervise the manufacture of the drum and banjos heads. Within a year the new company had failed and was sold at
auction, in August, 1927; since the factory and most of the machinery were new, there was great competition for the
assets, which were finally purchased by Slingerland.
1926-27 5 x 14 LIBERTY SNARE DRUM
Nothing earth-shattering here but I do like the history involved with this snare drum. I am not even sure what the model
name is so any Liberty catalog photos will be welcomed. The shell is aluminum, the rims are steel, there are 8 double-
tension lugs, 16 screw-type tension rods, calf heads top and bottom, 12 silk-wound snare wires and the flip-down
strainer is pretty primitive . The Liberty badge is quite different than the Liberty badges that are on my other Liberty
snare drums, those badges are more like the brass oval badges that Ludwig & Ludwig used in the mid-1920s to the
early 1930s. The batter head has some signatures from yesteryear and it looks like M. J. D'Arcy was possibly the
original owner of this drum. That's about it, feel free to weigh-in with any other information.
Enjoy!
Mike Curotto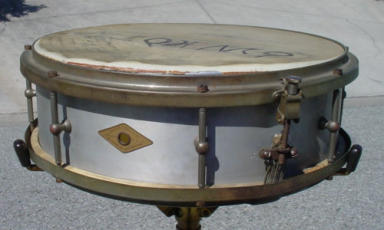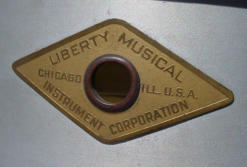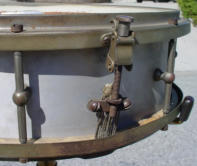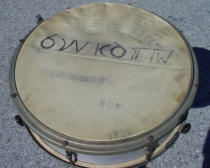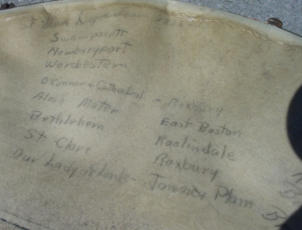 1926-27 LIBERTY SNARE DRUM
Hi all,
Well, one of my "Holy Grail" snare drums was finally located and has entered the Curotto Collection. This is the only
one that I have ever seen or heard of. The only reference that I am aware of is on page 4 of the 1934 Slingerland
Drum Company catalog. The DUALL "RADIO" MODEL All Metal Drum was offered in a "5 x 14 or 6.5 x 14 shell depth,
chromium or nickel plate finish, engraved black metal shell with chromium fittings or engraved black metal shell with
Art Gold fittings." The drum that I was fortunate to locate is catalog No. 43, "engraved black metal shell with Art Gold
fittings". This drum was found on a shelf in a middle school art classroom. The seller's girlfriend alerted the seller who
then made the deal with the school. The seller had originally contacted my good friend and fellow collector Steve
Maxwell who then contacted me. Steve was gracious enough to allow me to contact the seller personally and the rest
is history. So special thanks goes out to Steve Maxwell, to the seller Steven Gouty, to Mark Cooper (more on Mark
later) and to Dave Brown of the UK who was cheering me on all the way through this deal. A final twist to this story is
the fact that only three weeks earlier at the 2013 Chicago Vintage Show, Mark Cooper, Dave Brown and I were all
wishing out loud how cool it would be if an engraved/Art Gold DUALL showed up at The Chicago Show!
1932-34 SLINGERLAND 5 x 14 ENGRAVED/ART GOLD DUALL "RADIO" MODEL
THE SHELL:
So much for the good news...the shell was completely painted in white enamel, white lacquer or white something that
took about two hours out of my life to strip. I was able to completely strip all of the white paint off of the shell and after
a thorough cleaning and polishing I took the shell to Brian at Avenue Plating for a final lacquer clear coat. There were
a few minor dents but nothing that I couldn't take care of myself. The white paint actually protected the black nickel
and the engraving. The shell is the lighter weight brass shell that Slingerland used on their 1928-32 nickel plated Artist
Models and Artist Model Black Beauties, probably similar to the 1930s single piece shells that Ludwig & Ludwig used
but definitely lighter than the 1919-29 L & L heavier two-piece brass shells.
I found a pair of calf heads that sat high enough on the shell so all of us can see the full engraving pattern.
THE HARDWARE:
A lot going on here. The drum was missing 16 tension rods/washers, 16 collar hooks, the extension lever/thumbscrew,
some assorted DUALL mechanism parts, the DUALL wires and the Harold Todd tone control. The existing double-
flanged rims, 10 tube lugs and DUALL mechanism were pretty rough in that the Art Gold was almost all gone. I had a
Todd tone control in my parts stash that I almost sold a few weeks earlier. Enter my good friend and fellow collector
Mark Cooper of Cooper's Vintage Drums. Mark was kind enough (I know I'll pay for this someday) to sell me an intact
Gold Sparkle/Art Gold DUALL Model that I was able to use as a "donor" drum for this important project. In order to
make my drum function properly I had to do a little swapping out of the DUALL mechanisms. A few of these parts
needed special attention so my machinist/welder Abe Abello of Weld-Tec was able to do the final tweaking and he was
able to save the original parts. Abe is worth his weight in gold! The DUALL stamp is located in an unusual place at the
bottom of one of the snare guards and the usual "manufacturer's cartouche" markings on the snare guards are "6" and
"66". The Art Gold hardware from the "donor" drum needed a little cleaning and restoring but everything turned out
great and all of the Art Gold hardware still looks age-appropriate.
SOME OBSERVATIONS:
1. The engraving pattern on this DUALL Model is more ornate than the engraving pattern Slingerland used on their
earlier Artist Model Black Beauties. This is in contrast to Ludwig & Ludwig's more sparse 6 + 4 flower engraving
pattern that they were using as they were winding down the production of their Black Beauty Models of the same era.
2. It is interesting that Slingerland called this drum the "Radio" Model even before the Broadcaster and Radio King
Models were introduced.
3. The DUALL mechanism on this metal drum is different from the wood DUALLs that I own (and have seen) in that
there is no internal connecting rod running across the diameter of the shell. The DUALL mechanism simply
engages/disengages the wires from the lever side but not as much from the butt side. This has become a mystery for
me (and some friends) as we have tried to figure out how the DUALL mechanism on this drum differs (works) from the
wood shell DUALL Models. You can clearly see at the butt plate side that there is no upper linkage but only the lower
external DUALL mechanism. The hole above the butt side mechanism does not line up with that mechanism so this
tells me that it is the factory air hole which is in the exact same place as my nickel plated 10 lug Artist Model of the
same era (see photo). What I need here is an example of a DUALL "RADIO" MODEL All Metal Drum so I can
physically see what's going on. I am asking anyone out there that has this model to please contact me.
In the meantime, the mystery continues...
Enjoy!
Mike Curotto

1932-34 SLINGERLAND 5 x 14 ENGRAVED/ART GOLD DUALL "RADIO" MODEL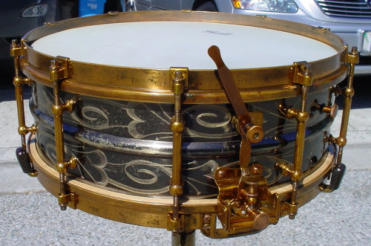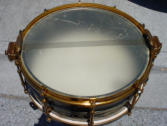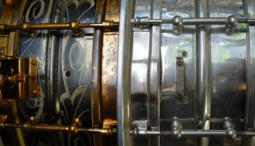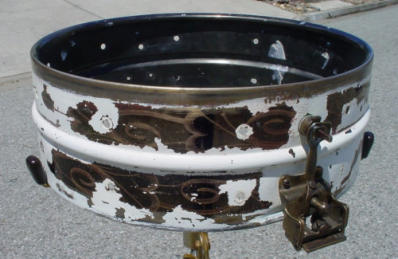 Hi all,
I hope that your 2013 Holidays were filled with happiness and joy. Mine were as I bought myself a snare drum for my
birthday (Dec. 23). Just the week before, I saw a post/photo on one of the forums that asked a few questions about this
drum; so I "cold emailed" the owner, struck a deal and received the drum on my birthday. There was some competition
but my bid sealed the deal. The owner, Jason Dennis, told me that the drum was his grandfather's and that he had
given it to Jason approximately 25 years ago. Here's Jason's quote: "So, I've had the drum for the last 25+ years. My
Pap gave it to me. In speaking with my grandmother over the holidays, it turns out he never played. His wife said that
he used to do estate clean-outs and that it likely was acquired in this process. In terms of provenance - best I can do:
Jason Dennis, Kurvin "Pap" Dennis and that it came from a home in York, PA." This drum completes another "set" as
you will see later on in this article.
1930 LEEDY 5 x 14 RED ONYX PROFESSIONAL MODEL
The Shell:
The Red Onyx wrap was in very good condition and was easy to clean and polish. The wood grommet is perfect, the
solid mahogany shell is in round and the interior is very clean. So all in all the shell was a breeze to clean and polish.
From my research (thanks Rob Cook) it looks like this finish was only around for one year, 1930.
The Hardware:
The nickel hardware was another story. The hardware was very dirty and very clouded so I once again had Les at
Avenue Plating do his magic. The procedure is to dip the hardware in the industrial soap tank, clean off the schmutz
with a very light brass wheel, "color" (polish) the dull nickel back to life and then a final wipe down to remove any left
over rouge. As you can see the hardware is now cleaned and polished but it still looks its age. It looks like the previous
owner decided to use 12-24 slotted screws instead of the 12-24 slotted (filister) or 12-24 square tension rods that
would have come with this snare drum. Fortunately I had 16 slotted tension rods in my parts stash. The butt plate was
pretty thrashed so I also swapped that out for a better one. The Speedway strainer works perfectly and the top rim has
a very nice Leedy Indianapolis stamp. One observation here; over the years, having done many cleanings and
restorations, I have noticed that Leedy almost always used 6-32 screws on both the Speedway strainer and butt plate
whereas L & L used 4-40 screws on their P338 and butt plate.
Of-the-era Leedy Hardwhite batter head, of-the-era slunk and James Snappi Wires rounded out this restoration.
As I mentioned earlier, I was able to complete another "set". The original Leedy 1929-30 flyers show color photos of
Black Onyx, Rainbow Pearl and Red Onyx. I've attached a photo of my snare drums in those exact finishes but with
one exception...it seems that Leedy also made an un-cataloged Green Onyx finish. The snare drum in the photo is the
only example that I have ever seen or heard of in Green Onyx. As always I welcome anyone to weigh in if you have or
know of any other Green Onyx drums.
Enjoy!
Mike Curotto
1930 LEEDY 5 x 14 RED ONYX PROFESSIONAL MODEL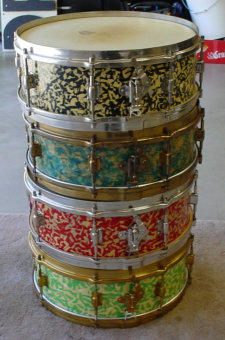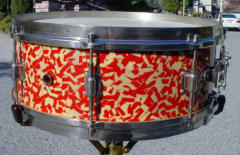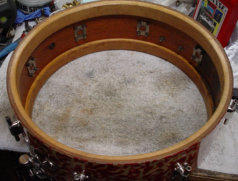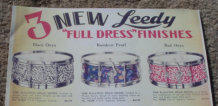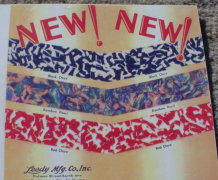 Curotto Collection - Page 4