Collector's Showcase:

Mike Curotto
Jim Messina's Vintage Drums Talk.com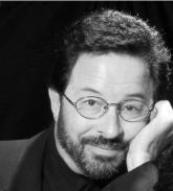 Click on any photo for a larger version.
1936 Ludwig & Ludwig 6.5 x 14 WMP/Chrome Silver Anniversary
Super-Sensitive Model

Curotto Collection - Page 7
1925-30 Leedy 5 x 14 #704E Black Elite Model (with no engraving)


Hi all,
Here's the latest snare drum to enter into the collection. This drum comes via a straight across trade with my very good
friend and fellow vintage drum collector Mark Cooper of Cooper's Vintage Drums coopersvintagedrums@verizon.net I
rarely sell or trade my snare drums but this was an easy deal. The drum that I traded to Mark was a 1920s-30s Gretsch
Emerald Green Pearl American Model. Mark is Mr. Sea Green Pearl and has the matching Gretsch EGP bass drum so I
was happy to be able to help him get the matching snare drum and in turn Mark added another rare snare drum to my
collection. As Mark mentioned in his various posts, this drum is in very good condition and has been carefully stored for a
long time.
1936 LUDWIG & LUDWIG 6.5 x 14 WMP/CHROME SILVER ANNIVERSARY SUPER-SENSITIVE MODEL
The Shell:
The WMP is in very good condition and shows no "ivorying" that is normally seen on 79 year old WMP drums. No polishing
was needed, only a light dusting. The white interior is also very clean with a strong 0236 (Feb. 1936) date stamp. The
badge is the brass oval badge left over from the 1920s/early 1930s pre-Anniversary era. I have a few Silver Anniversary
snare drums like this and whereas this is pretty rare it is still seen here and there.
The Hardware:
The hardware is 100% original. The chrome plating is in excellent condition and needed only a minor cleaning (wipe
down). Both the Super and Sensitive mechanisms work perfectly. The Anniversary Imperial lugs are the original tapped
versions.
Wood Silver Anniversary Super-Sensitives are very rare, I've never seen any until this drum. Feel free to weigh in if you
have one or know of any.
Enjoy!
Mike Curotto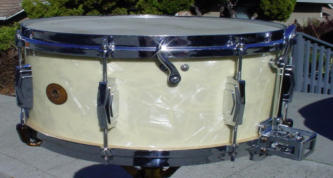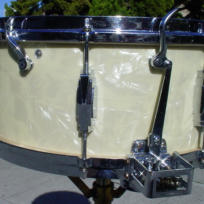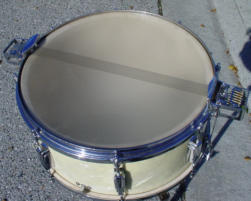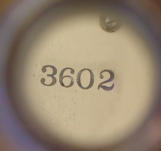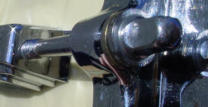 Hi all,
Here's the latest snare drum to enter into the collection. This drum was willed to me by a good friend who had passed
away a few years ago. My friend's wife was ready to sell some of his snare drums and she told me that her husband had
specified that I was to be contacted in order to help her sell the drums. The drum in this article was originally found in "as
is" condition in an antique store many years ago by my friend's mother. The drum is in 100 % original factory condition.
1925-30 LEEDY 5 x 14 #704E BLACK ELITE MODEL (with no engraving)
The Shell:
The black nickel is in great shape, shows its age and only needed a simple cleaning. This is the same shell as the Leedy
Black Elite Model, just not engraved.
The Hardware:
The Nobby Gold hardware is all there, in great shape and just needed a basic cleaning. I've always wondered why they
trimmed gut, or in this case, silk-wound snares so "short" at the butt plate. Have you ever tried to attach gut or silk-wound
snares that have been trimmed too short? Correct, a bit of a chore.
I've seen way less un-engraved Black Elites compared to engraved Black Elites. You would think the opposite wouldn't
you? The 1920s Leedy catalogs offered the option of an engraved shell for an extra $3.00. Interesting how $3.00 back in
the 1920s made that much of a difference...or...maybe the original owner just wasn't into engraved shells.
As always feel free to weigh in with your observations, comments and experiences.
Enjoy!
Mike Curotto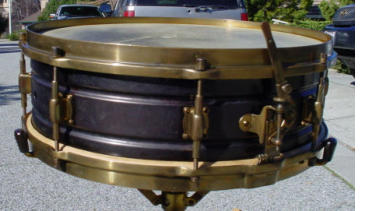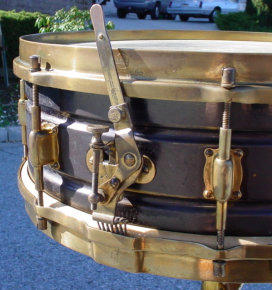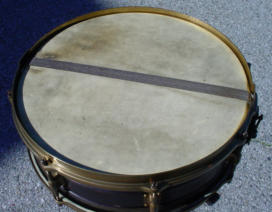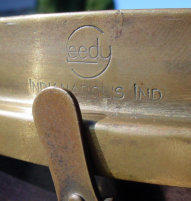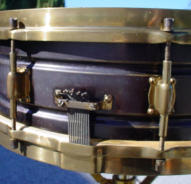 Hi all,
Here's a quirky one that just entered the collection. I "BIN'd" this snare drum from the fertile waters of EBay. There are a
number of strange but explainable anomalies that this drum presents.
So let's have a little vintage snare drum forensic fun.
1930-35 LUDWIG & LUDWIG 6.5 x 14 WMP/CLASSIC GOLD SUPER-LUDWIG MODEL
The SHELL:
The WMP wrap shows its age, is in good condition but had years of accumulated schmutz so it definitely needed my
normal cleaning and polishing regimen. The normalcy ends here. This 6.5 x 14 solid maple shell is drilled for ten 2" c-c
tube lugs that was the standard factory drilling on Ludwig 5'' shells vs. the normal factory drilling that was 3.5" c-c that
would have been on a 6.5 shell like this one. The white enamel Ludwig badge was first seen in 1935, Ludwig's 25th
anniversary year. The clear interior on this drum pre-dates 1935 though as white interiors were first seen in 1932-on. So
we have a 1930-32 shell (drilled for 10 lugs) with a 1935 badge (8 Imperial lug-era). The reinforcement rings are almost
double the normal depth and needed to be notched out at the factory in order to accommodate the attachment
screws/nuts for both sides of the bottom Super mechanism. There are a number of "alignment" pencil marks on the
interior. The interior looks raw and is not varnished or clear coated... a question (although moot at this point) to the lazy
Ludwig factory worker of yesteryear: "was it that much trouble for you to have cleaned off the excess glue from the
reinforcement ring attachments?" And as a final bonus, I discovered an undisclosed extra hole where the bottom part of
the lever side Super mechanism linkage is attached. In every other situation I would have called the seller on this as I
hate undisclosed extra holes but given the fact that this drum is so weird, I have made an exception (maybe a
rationalization) here. I honestly think that this is a factory mistake, a "Monday morning at the office" type of mistake if you
will. I see no reason why an owner of this drum would have drilled a wrong hole after the drum was already assembled
and shipped. The mistaken hole is so close to the bottom mechanism and looks like the other two holes that I think it was
deemed "close enough" to slide by on the assembly line. I only noticed it as I was dis-assembling the hardware from the
shell.
The HARDWARE:
The Ludwig Classic Gold finish is the 1932- brass plating with tinted lacquer. There was a lot of restoration needed here.
It doesn't look like Imperial lugs (same 2" c-c as 5" shell tube lugs) were ever on this drum as the Classic Gold finish on
the tube lugs matches and is consistent with the rest of the hardware and there is no tell tale outline/indentations on the
shell that an Imperial lug would have left. Here's a strange one; the Super mechanism linkage is the shorter linkage that
was used on 5" shells and is drilled/attached in the area as if this was a 5" shell. The Super mechanism on this drum is
the 1924 (patent)-34 Super mechanism that pre-dates the 1935 "trigger" version of the Super mechanism. And let's not
forget that there is no tone control on this drum. Tone controls first appeared in 1932-33 so shell-wise we are consistent
but badge-wise, not so.
Enjoy!
Mike Curotto
1930-35 Ludwig & Ludwig 6.5 x 14 WMP/Classic Gold Super-Ludwig Model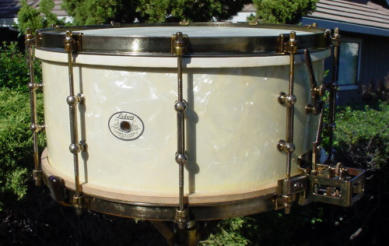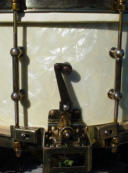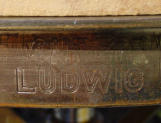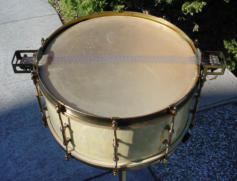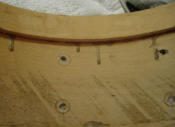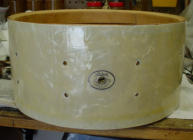 Hi all,
Well, here we go...here's another very weird snare drum that has been in my restoration queue for some time. This
drum reminds me of those Desert *Rat Buggies that are put together with all sorts of non-matching, weird parts, rusty
body parts and who knows what else. Kind of a "Mad Max" theme, this drum would fit in perfectly right next to that
crazy guitar player in the latest Mad Max movie... you will see what I mean.
*definition: An off-road vehicular device of any sort which is far below the level of expectation for a vehicle of this
type. The hot rods that are built in this particular fashion are commonly known for being highly exaggerated versions
of 1950's style Jalopy hot rods. By highly exaggerated jalopies, we mean cars that are built to look poorly done on
purpose, usually thrown together from old junk parts, and are usually poorly constructed as well as being built with
little regard for safety. Ask the average gear-head what a "rat rod" is and they will tell you it is a pile of junk on wheels.
1920s-30s? LUDWIG & LUDWIG 5 x 14 NOS/NOB 12 LUG "RAT" SNARE DRUM
The SHELL:
This snare drum started out as a 5 x 14 nos shell. The following is something that I have never seen before. The shell
is drilled for 12 lugs, the c-c spacing is 2 1/8" (1/8" wider than the 2" c-c that L & L used for their 5 x 14 tube lug
models). Now imagine a 5" nob shell that has had the middle cut out and the two remaining pieces including the
bearing edges are rolled over both sides of the original 5 x 14 steel shell and then soldered on the inside and outside.
I'm not making this stuff up as the photos will prove. The bearing edges and crimped snare beds are the same as we
see on normal 1920s-30s L & L brass snare drums. There is an air hole grommet. I decided to leave the shell rustic, it
just felt right on this unique snare drum and it kept with the "Rat" drum theme.
The HARDWARE:
The nickel plating was in excellent-plus condition and looked to be more heavily plated than usual so all that was
needed was a wipe down with a clean cloth. The 12 steel lugs are of a design that I've never seen before. The lugs
are attached to the shell in a very unique way: starting from inside, we see the same type of 8-32 attachment screws
that are used on Slingerland Radio King Models: moving to the outside, the attachment continues with 4 brass
washers and a type of "spacer" that finally threads into the lugs. The tension rods used on this drum are 1/4 – 28
*Allen Head Bolts that are much heartier than the 12-24 threaded tension rods that are normally seen on a drum from
this era. The Ludwig & Ludwig stamped top rim and the bottom rim are the steel band type used on early Universal
Models and as stated the nickel plating is in excellent-plus condition, especially for steel rims of that era. The top 12
collar hooks are different from the bottom 12 collar hooks. The P-338 strainer has the wrong threaded part but it works
fine so I decided to just leave it as is. The butt plated was installed upside down but I left that as is also as it goes with
the theme of this strange snare drum. Both the P-338 and the butt plate have been bolstered with the use of the
aforementioned Slingerland 8-32 attachment screws/nuts vs. the 4-40 attachment screws/nuts that would normally be
seen on a drum from this era.
*definition: An Allen wrench, Allen key, hex key or hex head wrench is a tool used to drive Allen screws and bolts,
which have a hexagonal socket in the head. ... the name Inbus™, named after the company that invented them in
1936.
Top and bottom calf heads and a nice set of James Snappi Wires added the finishing touch to this restoration.
The more I got into this restoration the more I enjoyed the experience, I really felt the "attitude" of defiance in this
snare drum. Take a good look at the photos... would you bring this drum home to your family?
As always I welcome your input and observations.
Enjoy!
Mike Curotto
1920s-30s? Ludwig & Ludwig 5 x 14 NOS/NOB 12 LUG "RAT" Snare Drum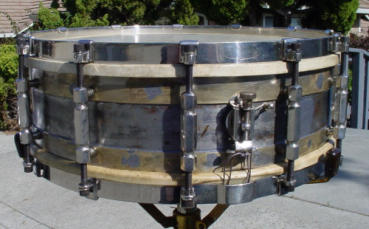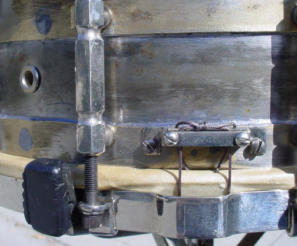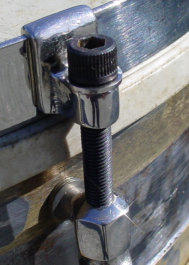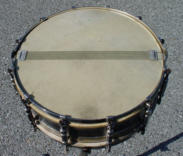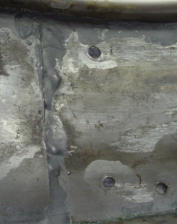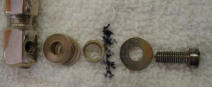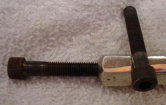 Hi all,
This one has been in my restoration queue for a while. I found it on EBay a while back. Believe it or not, these snare
drums are harder to find than engraved DeLuxes (Black Beauties).
Thanks goes to my good friend and noted vintage drum collector Bill Wanser for his help with this article... and... stringing
gut snares!
1923-25 LUDWIG & LUDWIG 6.5 x 14 8 LUG BLACK LACQUER/GOLD PLATED WOOD DeLUXE ("WOOD BLACK
BEAUTY")
The SHELL:
The solid maple shell is in very good condition with no extra holes or modifications. The black lacquer finish definitely
shows its age but a little lemon oil helped a lot to brighten up the dulled lacquer finish. There were many dings so I just left
them as is vs. touching them up which in this case would have not added to the original finish. The clear interior is in very
good condition but does show the excess glue drippings from the reinforcement ring attachments. The brass oval badge is
clean with a tight grommet.
The HARDWARE:
All these years I had thought that the hardware was the DeLuxe (copper plated/gold lacquer) plating but as I began this
restoration I discovered that the hardware is gold plated. The gold plated hardware is all there (rare for a 90-plus yr. old
drum) but the original clear coat lacquer had turned dark and cruddy. I chose to strip the old lacquer and was astounded at
how well preserved the gold plating was, as good or better than many of my other gold plated snare drums. There is just
enough wear in a few places to keep it real so I re-lacquered the gold plating. The two hardware finish options that L & L
offered were DeLuxe and real gold plating.
Of-the-era top and bottom calf heads and of-the-era gut snares rounded out this restoration.
Enjoy!
Mike Curotto
1923-25 Ludwig & Ludwig 6.5 x 14 8 Lug Black Lacquer/Gold Plated Wood
DeLuxe ("WOOD BLACK BEAUTY")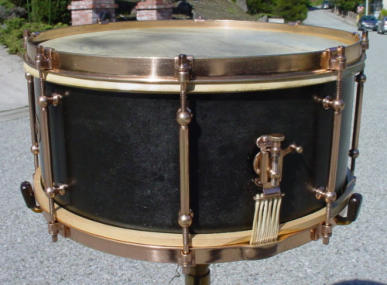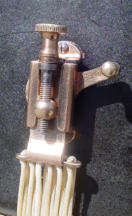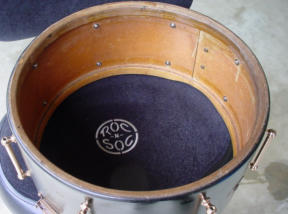 Hi all,
I got this snare drum at the 2014 Chicago Vintage Drum Show. A special thanks goes to Mark Cooper for assisting me
with the purchase and with some additional information as to what this snare drum is.
1938-40 SLINGERLAND 5 x 14 NOB ARTIST MODEL RADIO KING
The SHELL:
Nothing out of the ordinary here, just a nicely preserved nob shell that just needed a good cleaning. Simple Green (full
strength) works really well. As the photos show, the shell is a lighter weight one-piece brass shell than the heavy 2-piece
and one-piece brass shells that Ludwig & Ludwig used in the same era.
The HARDWARE:
Again, nothing out of the ordinary here. The nickel plated hardware was in good shape but still needed a good cleaning
and polishing. As always the steel tension rods show the most wear but they cleaned up and polished up nicely. The top
rim has a strong Slingerland Radio King stamp.
Radio King logo top and bottom calf heads and of-the-era Slingerland snare wires rounded out this restoration
Final thoughts:
This snare drum was sold to me a Radio King. As I started to get into the restoration I noticed that there are no extension
brackets or any drilling for extension brackets. I have seen catalog photos of Slingerland Radio Kings with no extension
brackets but a few possible scenarios still remain: 1. With the WW II War Act (metal restrictions) approaching along with
the dwindling metal parts situation maybe the extension brackets were left off on this drum. 2. Maybe this was a special
order a la Gene Krupa where the buyer requested no extension brackets. This is quite possible as drum companies of
that era would entertain special orders or "factory re dos". And, just keeping it real... 3. There is also the possibility that I
got ripped off this time.
As always feel free to weigh-in with your thoughts and experiences.
Enjoy!
Mike Curotto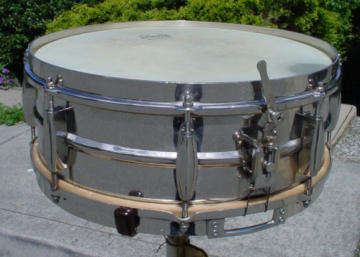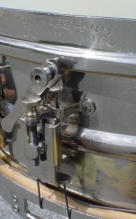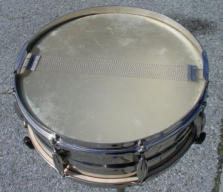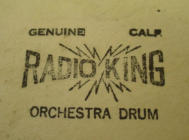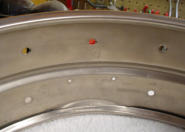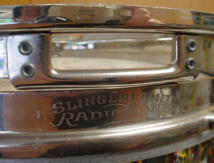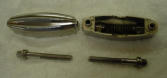 1938-40 Slingerland 5 x 14 NOB Artist Model Radio King
Hi all,
Straight from the Fall Edition of the 1929 Ludwig Drummer flyer via my good friend Bill Wanser and his partner Scott
Colner of Olympic Drums & Percussion of Portland, Oregon.
The year was 1929 and Ludwig & Ludwig was in the midst of some major changes: 1. They were sold (or in the process of
being acquired) to the music giant C. G. Conn & Co... 2. L & L and Leedy Drums (also acquired by Conn) were literally
being manufactured across from each other in the same building... 3. The Great Depression had just started... and 4.
(timing?) L & L had just come out with 4 brand new snare drum models; Super-Sensitive, New Era-Sensitive, Super-Power
and the Standard-Sensitive, the snare drum that I am sharing with you in this article.
For those of you who are not familiar with these models here is a quick description. An easy thing to remember is that all
four models have one thing in common - the Sensitive mechanism which is the mechanism that is under the batter head:
Super-Sensitive: Super (parallel) mechanism on the bottom, Sensitive mechanism under the batter head. Available sizes
were 5 x 14, 6.5 x 14, *5 x 15, 6.5 x 15.
New Era-Sensitive: Both Sensitive mechanisms inside the shell (one under the batter head and one inside on top of the
slunk head). Available only in 5 x 14.
Super-Power: This is a 12 x 15 Street Drum model. Standard Professional throw off (bottom), Sensitive mechanism under
the batter head. Available only in 12 x 15.
Standard-Sensitive: Standard Professional throw off (bottom), Sensitive mechanism under the batter head. Available sizes
were 5 x 14, 6.5 x 14, **5 x 15, 6.5 x 15.
*the 5 x 15 size was left out of the flyer but they do exist.
**the 5 x 15 size was left out of the flyer but obviously exists.
You will see many more Super-Sensitive models than the other three Sensitive models. The main reason for this is that the
Super-Sensitive model was in production from 1929-1939 (+/-) while the other three Sensitive models were only produced
between 1929-30 and never made it to a Ludwig & Ludwig catalog. My own opinion regarding the rarity of the other three
Sensitive models is that the Super-Power is the rarest (I've only seen 1 or 2), next is the Standard-Sensitive (I've seen 10
+/-) and the New Era-Sensitive (I've seen 15-20 +/-). I am not the final word on this but I think that I am pretty close in my
evaluation as to the rarity of these models.
1929 LUDWIG & LUDWIG 5 x 15 NOB STANDARD-SENSITIVE MODEL
The SHELL:
The nob, 2-piece, heavy brass shell was in very good condition with no extra holes or modifications. The nickel plating was
in very good shape but I wanted to clean and polish it. I usually do this by hand but after trying this there was still a layer of
patina that I could not get clean so I took the shell to Les at Avenue plating and he "colored" up the shell for me. Coloring
is the term platers use when they polish up metal that has a patina/tarnish on it.
The HARDWARE:
The hardware was also in very good condition but I chose to clean and polish anyway, same situation as was the shell so
Les and his brother Brian colored up the nickel hardware for me. I was happy that the hardware was 100% present and
accounted for; this is the reason why I like to buy from Olympic Drums and other vintage drum dealers like Olympic Drums
& Percussion. The Professional throw off and Sensitive mechanism work fine, nice and smooth. The top rim has the 1929
engraved "Standard Sensitive", the 1930 version was a stamped "Standard- Sensitive". This is geek-a-tron minutiae but
still an observation -- at times you will see a dash "—" after Super, New Era, Super and Standard Sensitive. There is no
dash on this rim.
The drum came with of-the-era top and bottom calf heads, original Sensitive snares and original 1929 Ludwig Snappi-
Snares.
Enjoy!
Mike Curotto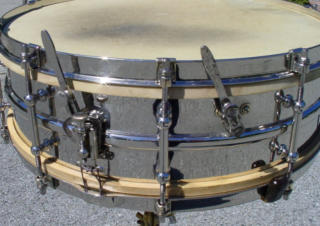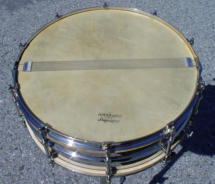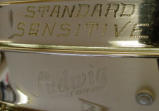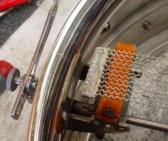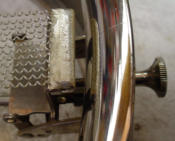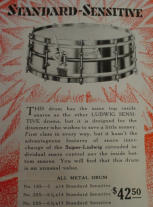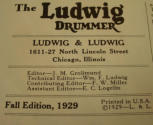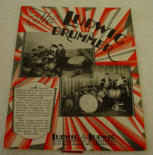 1929 Ludwig & Ludwig 5 x 15 NOB Standard-Sensitive Model

Hi all,
I purchased this snare drum many years ago from my good friend, drum collector and drum historian Harry Cangany. You
can find this drum on pg. 27 of Harry's book The Great American Drums And The Companies That Made Them, 1920-
1969. Chapter 8, L & S (a. k. a. Leedy & Strupe) has some good background information about this short-lived company.
For those of you that do not have Harry's book here is a very short synopsis of what was going on back in 1929. Thanks
again to Harry for allowing me to quote from his book.
The year 1929 was the start of the Great Depression. Leedy Manufacturing Co. along with Ludwig & Ludwig Drum Co.
were both acquired by C. G. Conn, Ltd. After a while both owners wanted to start their own respective drum companies.
William F. Ludwig Sr. started "The Wm. F. Ludwig Drum Co." but was not allowed to use the Ludwig name per the
contract agreements with C. G. Conn so it became "The WFL Drum Co." U. G. Leedy had the same problem with the
Conn attorneys so his new company's name, "Leedy & Sons" had to be changed to "General Products Corporation,
Manufactures of L & S Drummers Equipment." The letters "L & S" unofficially came to stand for "Leedy & Strupe."
1937 L & S 7 x 14 (DUCO) BLACK/WHITE/BLACK PEARL DICTATOR De LUXE MODEL
The SHELL:
The 7 x 14 "laminated wood shell" interior is clean with maple reinforcement rings. The duco pearl finish is pretty thin but
despite a few minor cracks and separations the finish cleaned up and polished up nicely. My good friend Al Schneider
(the original Drum Doctor est. 1963) repaired the small cracks and separations. The 1937 (copyright 1936) L & S catalog
does not say anything about a duco pearl option. The catalog pearl finish choices are black pearl, white pearl and some
sparkle finishes. The finish on this drum looks more blue pearl than black pearl but it could be that the black pearl has
faded to "blue" in the 80 yrs. that this snare drum has been around. This shell is definitely 7 x 14, the deepest shell
measurement listed in the L & S catalog is 6.5 x 14.
The HARDWARE:
The L & S catalog states that their parts are "heavily plated", this is true for the most part. The cast lugs are pretty beefy
and the nickel plating was in great shape, noticeably better as compared to the cast lugs that I've seen on 1930s Leedy
and Slingerland drums. The rest of the hardware also cleaned up and polished up nicely. The tension rods are hexagonal
with slots. From what I've read the L & S tension rods started out as only hexagonal and then slots were added. Yep, I'm
thinking the same thing, try to find a hexagonal drum key. The L & S catalog did offer a hexagonal drum key though. I
originally used and old banjo key that worked perfectly but on further inspection I located another hexagonal key in my
collection that matches the catalog photo so a previously un-named vintage drum key now has a name.
Of-the-era top and bottom calf heads and snares rounded out this restoration.
Times were rough during the Great Depression, in 1939 General Products Corporation, Manufactures of L & S
Drummers Equipment went out of business -- only 2 years after this drum was made.
I always welcome your comments so feel free to weigh-in.
Enjoy!
Mike Curotto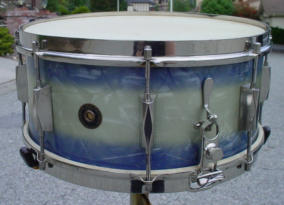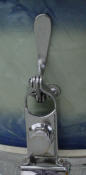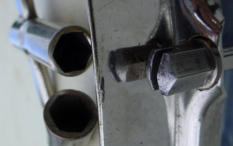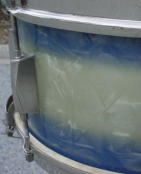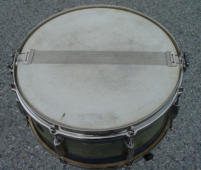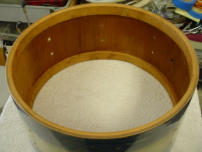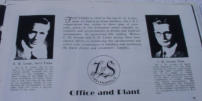 1937 L & S 7 x 14 (DUCO) Black/While/Black Pearl Dictator De Luxe Model