Collector's Showcase:

Mike Curotto
Jim Messina's Vintage Drums Talk.com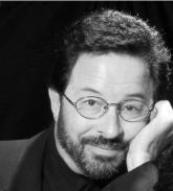 Click on any photo for a larger version.
1919-1922 Ludwig & Ludwig
5 x 14 6 LUG/FANCY SCROLL ENGRAVED
DeLUXE STANDARD MODEL
Hi all,
Here's another snare drum to enter into the collection. This one came from Ebay a few months ago. The seller was kind
enough to end the auction early for me.
1919-1922 LUDWIG & LUDWIG 5 x 14 6 LUG/FANCY SCROLL ENGRAVED DeLUXE STANDARD MODEL
The Shell:
Most of the scroll engraved DeLuxes that I have seen and own from the 6 lug era (1919-1922) all have the simple
scroll/wave engraving pattern. This shell has a much fancier scroll pattern that I have never seen before on a 6 lug
DeLuxe although noted Black Beauty expert John Aldridge told me that he has seen another one like this. I do have
two 8 lug scroll DeLuxes with the fancy scroll engraving but these are 1923 or later. See photos. I have also included
a photo of a later (single-flanged rims and Artgold hardware) simple scroll 6 lug DeLuxe that is in my cleaning/restoration
queue. The overall condition of the black nickel shell and the original factory lacquer clear coat is pretty good but the
engraving on the majority of the panels of this drum have darkened over the years but not in a tarnished manner so I
decided to just clean and polish the shell and leave it as is. The only other alternative would have been to send the shell
to Adrian Kirchler of AK Drums, my gut said "keep this one rustic." From what I have been told there were three L & L
engravers during the DeLuxe/Black Beauty era so the question is: did one of these engravers get a special order to
enhance the typical scroll/wave engraving on this drum or was there a fourth "scratcher" in their midst?
Thanks to Bill Wanser for helping date this drum from 1919-1922. In 1923 L & L went to an 8 lug shell and single flanged
rims on their Professional Models. The seller informed me that the original owner was a dentist in the Midwest named
Dr. Donald R. Skillen. You can see where he had the drum personalized but unfortunately (or fortunately) the engraving
except for the date is covered up by the top head. Still a nice artifact from the era.
The Hardware:
Bonus time...from the Ebay photos my hunch was correct, the hardware is gold plated. The single band rims are in round
with a strong oval Ludwig & Ludwig stamp on the top rim. All of the hardware still had a good amount of gold plating so I
just cleaned everything with some 3-In-One oil. As always the steel tension rods needed more attention so after cleaning
them I gave them a few coats of clear lacquer to prevent any rust from occurring in the future. Someone added a metal
"bar" covering two holes in the strainer gut piece and the snare cord was attached to this. I am guessing that the owner
thought this was a better way to attach the snare cord. I also decided to leave it as is...another cool artifact that came with
the drum.
Of-the-era top and bottom calf heads and James Snappi Snares rounded out this cleaning /restoration.
Enjoy!
Mike Curotto

Curotto Collection - Page 5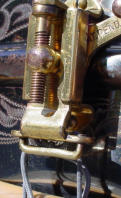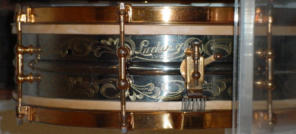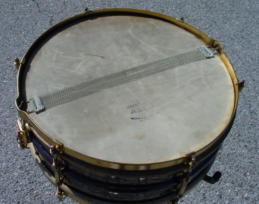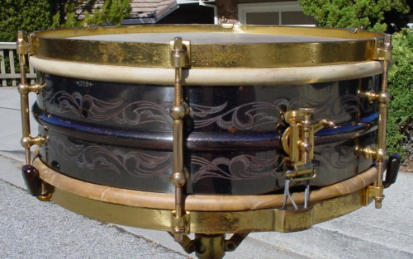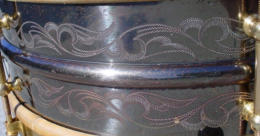 Hi all,
The quest for rare, one-off, special order Street/Parade drums continues. This latest small condominium comes
from Bill Wanser and Olympic Drums & Percussion, Portland Oregon. Thanks goes to Bill who allowed me to print
the story that was in the item description...
"Notes: This is a beautiful and rare WFL Twin Strainer concert field drum in original White Marine Pearl
wrap. These drums were designed with two independently controlled sets of snares as described in the
1941 catalog displayed above. This design allows the player to switch between the two types of snares in
an instant. All parts are original, including the drum key, and in excellent condition. The white marine pearl
wrap is also in excellent condition with the only blemish being a small cigarette burn next to one of the lugs.
This was caused no doubt by a relaxing drummer called to action on short notice and placing his still
burning cigarette behind the tension rod. The snares are original gut and wire wound silk. The calf heads
are newly tucked heads on the original flesh hoops. All chrome plated hardware is in excellent condition.
This drum was used by the original owner in the Arizona State University marching band in the 1930's. It
then lived in a closet until the mid 1990's when it was found and used in the Phoenix Symphony. An
excellent sounding concert field drum that will also make an attractive addition to any collection."
1938 WFL #482 12 x 16 DELUXE MODEL CONCERT PARADE DRUM
The Shell:
The 3-ply shell is in great shape. The WMP still has a lot of white and the only blemish is the cigarette burn
mentioned in the above description. The interior is clean.
An easy cloth wipe down was all that was needed.
The Hardware:
All of the chrome hardware is original and in great shape even the 8 notoriously unstable Zephyr lugs. The twin
strainers work well and feel smooth.
There was no work that was needed to be done on this drum.
I'm sure that this drum was concertized many times by Bill Wanser (Principle Percussionist, Phoenix Symphony,
ret.)...now it's "museumized."
Enjoy!
Mike Curotto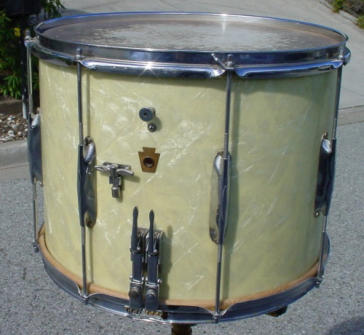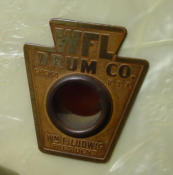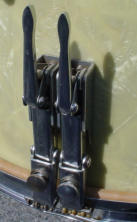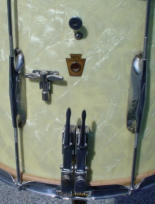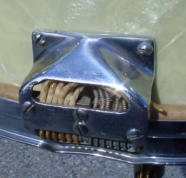 1938 WFL #482 12 x 16 DELUXE MODEL CONCERT PARADE DRUM

Hi all,
Here's another one to enter the "Mark Cooper Wing" of the Curotto Collection. I don't have many Gretsch snare drums as
most of the Gretsch collectables are 1950s-60s era which is a little late on the chain for me. My good friend Mark Cooper
offered this drum to me so I decided to pull the trigger and purchase my first Gretsch Gladstone snare drum. Noted
Gladstone expert and friend Chet Falzerano was kind enough to allow me to print his remarks: "

Those numbers are
stamped into Gretsch shells with what appears to have been a branding iron. The Fatool drum has #255. I told Mark I think
the snare pictured with the Gretsch Gladstone set in the Gretsch book has a higher number (sold that many years ago).
The Chick drum I just put together is 128. I was thinking they may be production numbers as the Chick drum (with the
lowest number I have seen) has some unusual features I have never seen before, namely the throw off lever is engraved,
the key is stamped, and there is an adjustable stop inside the drum to regulate pressure of the pads against the head. I
thought these features were dropped by Gretsch as a cost saving measure as the GG was THE most expensive drum on
the market at the time. William F. Ludwig, Jr. recalls: 'I remember Gretsch reserving a suite at the Sherman Hotel (in
Chicago)...and inviting all the Chicago drummers to see the marvelous Gladstone drum. The drum sold for $100, which
was ridiculous in those days. Our top of the line drum was $35.' The 3-Way on eBay now (with the rewrap) is number 112
according to the owner. Back to the drawing board on the numbers.

"
1939-41 (#279) 14 x 6.5 WMP GRETSCH GLADSTONE 3-WAY TUNING ORCHESTRA DRUM
The Shell:
The 3-ply shell is in great shape and looks to be in round although the calf heads did take some Cooper-izing. The interior
is clean with a huge "279" on the top re-ring that looks like it was applied by stamping the numbers into the re-ring rather
than a branding iron type device (as Chet stated above). The photo gives the illusion that the 279 is "raised" but it is not. I
am told that #279 is one of the highest numbered drums that has surfaced to date. The WMP is also in great shape, has a
lot of white left and looks "classically aged" as I like to call it. The Gretsch Gladstone badge and the tone control
adjustment badge are both very clean.
The Hardware:
The Gretsch chrome plated rims were surprisingly in very good shape. The Gretsch Gladstone logo on the top rim looks
like it is engraved. The tensions rods were a bit dirty but cleaned up nicely as did the strainer, butt plate and 3-way key.
The single post lugs were in the best shape.
Special thanks goes to Mark Cooper for doing a great job of cleaning up this drum for me. I supplied of-the-era calf heads
and the correct Duplex chrome 12-strand wires but I do have to say that after tightening the heads and tweaking the wires
this drum is absolutely horrible sounding. This is not a big deal as I don't play vintage drums, I just collect them.
Enjoy!
Mike Curotto
1939-41 (#279) 14 x 6.5 WMP GRETSCH GLADSTONE
3-WAY TUNING ORCHESTRA DRUM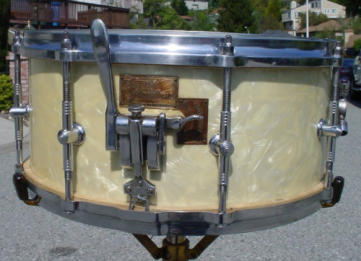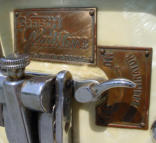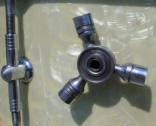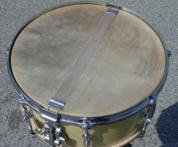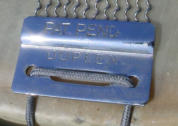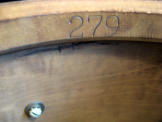 Hi all,
This one took some serious rescuing. My friend and fellow collector Robert Campbell bought this drum a while back and
contacted me for my opinion on what to.
My advice (if he wasn't into the drum for too much money) was to repair, restore and preserve the drum as best as
possible. Bob agreed, the following is what took place.
1920s C. G. CONN 5 x 14 SILVER PLATED/GOLD PLATED/ENGRAVED 6 LUG ALL METAL SEPARATE
TENSION DRUM
The Shell:
The good news is that the shell is silver plated, gold plated and nicely engraved. The bad news is that there were 15
extra holes! Yep, 15 collector-cringing extra holes.
Can you "splain it to me Lucy" why anyone in their right mind would drill 15 extra holes in this special order, gold plated
and engraved shell? Extra ventilation, oh of course, how silly of me. The first stop was to get the shell into the golden
hands of my welder/machinist Abe Abello of Weld-Tec in Redwood City CA. There were so many holes in this shell that I
had to tape off the 17 original holes that were not to be plugged. Abe was able to plug the holes but I explained to Bob
that due to the excessive heat needed to do the plugging correctly the silver and gold plating was burnt away in the
areas near the extra holes. Enter Les Hagnagy of Avenue Plating in Redwood City CA...less than 50 yards away from
Abe. Les tried his best to use a technique whereby he "rolls on" the gold plating just to the affected areas via a "wand"
that is hooked up to the gold plating tank. Unfortunately the shell was too far gone from the extensive hole plugging that
had to be done so the decision was made to simply re-gold plate the shell. After a nice clear coat the shell was brought
back to life. One last interesting oddity was that the bead on the shell looked normal from the outside but on the inside
you can see that there was no channel but rather a very small opening, definitely different from the Ludwig &
Ludwig/Leedy shells of the same era.
The Hardware:
The good news is that the hardware is gold plated. The bad news is that although you could see the gold plating on the
steel rims, tension rods, collar hooks, Utility strainer and butt plate... everything was heavily rusted. The 6 brass tube
lugs were fine but the gold plating had long since worn away. Les dipped all of the hardware into his cleaning tank and
removed the rust but we decided to flash gold plate the hardware as there was too much rust damage. Les clear
lacquered the hardware to preserve the gold plating and to at least stave off any future rust. There were two missing
tension rods. These were not your normal sized tension rods but instead they were 10-24 threads with very small
square heads. I had two copper plated 10-24 T-handle tension rods in my parts stash, that's a little bit of luck on my part
but the real miracle is that Abe was able fabricate two matching tension rods from what I had. I was so amazed that I
had to add a photo. The Knobby Gold Leedy T-handle on the right is an example of the two that Abe had to work with,
the two tension rods to the left of the T-handle are the fabricated tension rods from Abe. Tensioning was a bit of a chore
as these 10-24 C. G. Conn tension rods had very small heads so I went to my vintage key collection and found a few
banjo/clock keys that worked perfectly; one key is for you Bob just in case you ever want to change heads. The Utility
strainer and butt plate were quite different as compared to what we would normally see on Leedy drums from the same
era (see photos). The steel band rims were in the worst condition. Les was able to remove all of the rust but the
"etching" from the rust remained even after the gold plating.
I was glad that Bob wasn't into the drum for that much money as I would have hated to see this piece of C. G. Conn
history just die by the wayside.
The real heroes are Abe and Les. I am very fortunate to have them associated with my hobby. Their work continues to
amaze me!
Enjoy.
Mike Curotto (Drum Whisperer)
1920s C. G. CONN 5 x 14 SILVER PLATED/GOLD PLATED/ENGRAVED 6 LUG
ALL METAL SEPARATE TENSION DRUM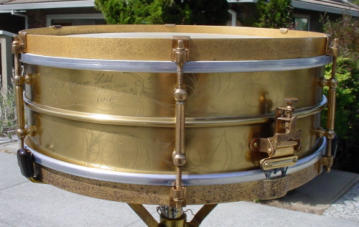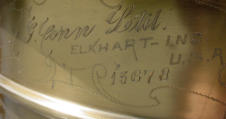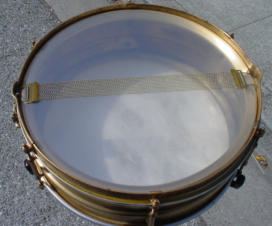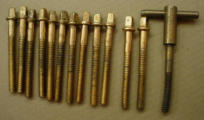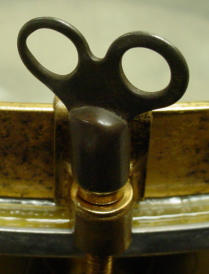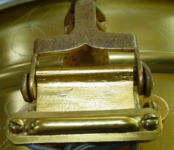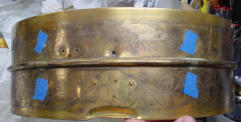 Hi all,
I just got this

1928-30 5 x 14 Ludwig & Ludwig "Rainbow Pearl"/Artgold Standard Model snare

drum from my
good friend and fellow collector Donn Bennett of Donn Bennett Drum Studios in Belleview, WA. The drum needed no
cleaning or restoring. The solid maple shell interior is clean with a tight grommet/badge and the "finish" is very clean.
There is no tone control, tone controls show up in the L & L catalog around 1932 hence the 1928-30 dating. The Artgold
hardware was restored by Adrian Kirchler of AK Drums in Italy. The only thing I added was of-the-era top and bottom
Ludwig & Ludwig calf heads and Ludwig & Ludwig Snappi-type wires.
The real story is in the identification of the finish that is on this drum. I'll try to explain as best as I can but there are
definite inconsistencies that I will site along the way. The finish on this drum (and on the only other drum like this that I
have ever seen) has been referred to as "Rainbow Pearl". I have included a comparison photo of both drums. Ludwig &
Ludwig never had a cataloged finish called Rainbow Pearl but they did have the Rainbow Outfit but the drums were
finished in Lavender Pearl (1928-35). Leedy introduced Rainbow Pearl in 1930 and it has been suggested that the finish
on this drum was taken from the "Leedy side" of the building as Leedy and Ludwig & Ludwig were literally built across
the way from each other as they were both owned by the C. G. Conn Co. at that time but the Leedy Rainbow Pearl snare
that I own does not look at all like the "Rainbow Pearl" drum in this article. I have also included a comparison photo of
the Leedy drum and this drum so the reader can see what I am talking about. Another theory is that this could be a
variation of a "run" of 1928-30 Peacock Pearl. More photos are available on page 153 of The Ludwig Book by Rob Cook,
this is a nice presentation of Peacock Pearl I and Peacock Pearl II. Please note that at the top of page 153 Rob lists
Peacock Pearl version I (1928-30) and Peacock version II (1930-32) but reverses the the order in the photos; the top
photos should be labeled Peacock Pearl II and the bottom photos should be labeled Peacock Pearl I and be aware that
the drum in the lower left is the "other" Rainbow Pearl drum that I mentioned earlier. Having fun yet, are you still with
me? So what are we going to call this finish...Rainbow Pearl, Peacock Pearl I, a variation of Peacock Pearl I, a one-off
run of an un-cataloged finish, a one-off special order, frog in a blender, Walt Disney threw up? No matter what we call it I
have come to really enjoy collecting this finish even though, as my good friend John Aldridge says, "that finish is as ugly
as home made soap!" As always I welcome your comments, observations, information AND photos if you own a drum
like this or if you have seen or heard of another drum like this one.
Enjoy!
Mike Curotto

1928-30 5 x 14 Ludwig & Ludwig "Rainbow Pearl"/Artgold Standard Model
Snare Drum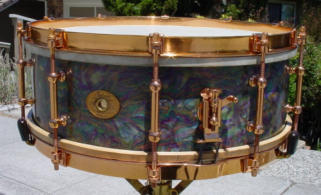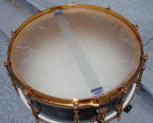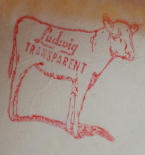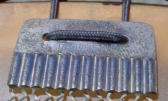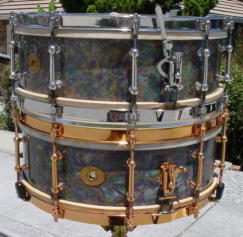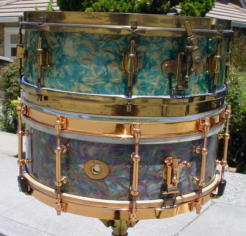 Hi all,
Here's another one that just came in. I got this off of Ebay from Steve Hillman, a collector on the East Coast. I don't own
one of these so it was a nice addition to the engraved snare drum section of my collection. This is most likely near the
end of the engraved snare drum era from the Leedy Drum Company.
1939-41 LEEDY 6.5 x 14 BROADWAY STANDARD "T-BIRD" ENGRAVED ELITE MODEL
This drum came to me in excellent condition so very little cleaning was needed.
All that was needed was top and bottom of-the-era calf heads and a set of Leedy (logo) wires.
This was an easy one but I do have a restoration tip to pass along. This is purely personal but maybe a few restorers out
there will find this useful. If you notice on all of my restorations you will see "aged" snare cord. I think that it looks out of
place to have brand new white snare cord on an 85 year old drum; functionally it's no problem, visually it drives me nuts.
Here are two tips for you... 1. I use Yamaha snare cord model SNC-10 but before installing the snares I run the cords
through a used (blackened) piece of Cape Cod Polishing Cloth, this darkens (antiques) the white cord and in my opinion
makes it more realistic looking... 2. I just discovered Puresound makes model MS4 (dark brown brained line). This is
what I used on the drum in this article.
I am very happy with this product. I hope this helps.
Philly Joe Jones was once asked in an interview: Q: What's your favorite drumset? A: The one that I don't have to set up.
If I may paraphrase to suit my situation: Q: What's your favorite vintage snare drum? A: The one that I don't have to
restore!
Enjoy!
Mike Curotto
1939-41 LEEDY 6.5 x 14 BROADWAY STANDARD "T-BIRD" ENGRAVED ELITE
MODEL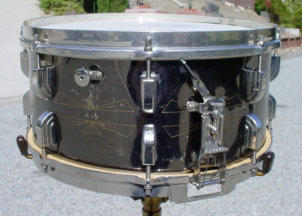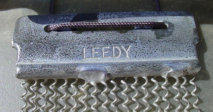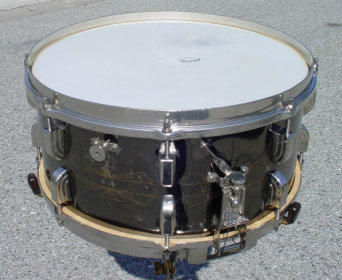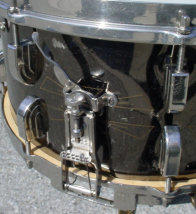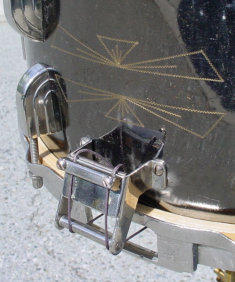 Hi all,
Here's a snare drum that I purchased at the 2014 Chicago S how from Brian Drugan of Drugan's Drums. First
generation Leedy Duals are fairly scarce, nothing earth shattering here but this drum did have something cool that I've
never seen or heard of before.
1929-32 LEEDY 5 x 14 GOLD SPARKLE/NOBBY GOLD BROADWAY DUAL (1st GENERATION)
The Shell:
I always considered the Leedy Gold Sparkle finish to be the best of any drum company from that era. To me it looks like
gold flakes floating in oil. The finish on this drum needed some cleaning and polishing but after a few passes with my
Maguire's #17 cleaner and #10 polish I was able to bring the finish back to life. The white interior needed very little
cleaning. I did notice that there is a metal grommet instead of a wood grommet...see photo.
The Hardware:
The Nobby Gold finish was pretty worn all around the drum but in a good way so I just cleaned all of the hardware and
gave everything a light coat of gold lacquer just to preserve the finish even more. The box lugs were chrome, an obvious
mismatch but I guess there was the possibility that one could have ordered chromium lugs as an option as we have
seen on Slingerland drums of the same era, e.g. I own a few Slingerland wood shell and nob drums that have nickel
hardware and chrome lugs. Still bugs me but that's what it is. I haven't seen that scenario on any of my Leedy snares or
others that I have seen. Back to the Leedy lugs. I took the lugs to Les at Avenue Plating so he could strip the chrome
and "antique" the lugs to match the rest of the hardware. Les came through once again so all is good and everything
matches as it should. Four of the 10-24 square head tension rods were not correct so I found 4 in my parts stash but
they were too long so I had my trusty machinist/welder Abe Abello of Weld-Tec do his magic. He matched everything
perfectly. I did notice that the internal linkage for the bottom Parallel mechanism is brass while the top Dual internal
mechanism is steel. I also noticed that the attachment screws for both mechanisms are smaller than 6-32 and bigger
than 4-40 so I'm guessing 3-37. Now for the cool part. Instead of the Leedy "spoon" extension levers that we all are
accustomed to seeing on 1st generation Leedy Parallels and Duals this drum has Leedy "paddles" that are used as
extension levers for the Parallel mechanism and the Dual mechanism. You can see the Leedy logo on both paddles as
well as their function; Snare for the lower Parallel mechanism and Mute for the upper Dual mechanism (L&L used the
name Sensitive for their upper mechanism). The obvious question is...were these paddles a special order or a factory
option? I have not seen anything in the Leedy catalogs other than the spoon extension levers. As always I invite you to
weigh-in with your ideas or similar situations.
The gut snares look of-the-era but notice how they are attached to the lever side...man that's a lot of tedious work and
patience.
I finished off this restoration with some of-the-era Leedy HARDWHITE calf heads.
Enjoy!
Mike Curotto

1929-32 LEEDY 5 x 14 GOLD SPARKLE/NOBBY GOLD BROADWAY DUAL
(1st GENERATION)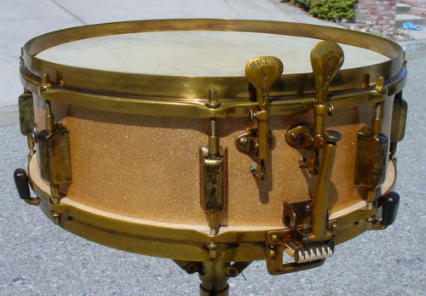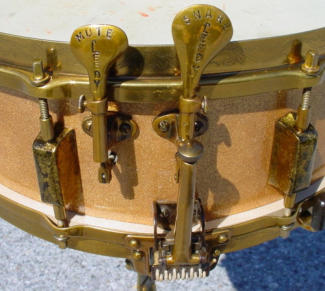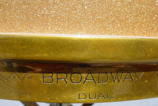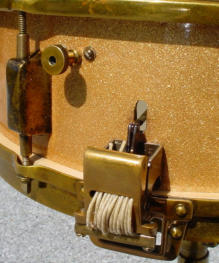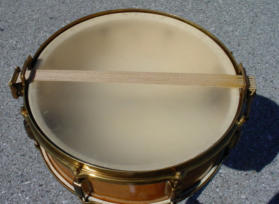 1925 LUDWIG & LUDWIG 4 x 14 GOLD PLATED/ENGRAVED "WILD ROSE"
TRIUMPHAL MODEL (#9)
Hi all.
Ludwig & Ludwig Triumphal #9 was located and has entered into my snare drum collection. This drum was the topic of
discussion in early Sept. at Drumforum.org. The owner was seeking some information as to what the drum was and
what its value would be. There were a lot of responses and a number of those posts were suspicious of the owner, the
validity of the drum and the accompanying story. A few flames were thrown here and there and things got a little heated
but in the end everything turned out good. A special thanks goes to Bun E. Carlos for contacting the owner about me
and thanks to all of the Drumforum members who vouched for me in their posts. I contacted the owner and we started a
dialog. This type of drum has to be looked at and examined in person so we arranged to meet on Sunday Sept. 28 at
noon. The drum was definitely a 1920s L & L gold plated/engraved Triumphal Model so we did the deal. I have the
"exact same" drum (pgs. 10-11 in my book: The Curotto Collection)...more on "exact same" later.
A brief history of ownership taken from the seller's original Drumforum.org post and a little added information from our
phone discussions: "I was given this snare drum several years ago by my stepfather, he found it in the garage of a
house he had purchased, under a pile of trash in the corner. The drum has been in the family for 22 years, I've owned it
for 10 years and the kids used to play with it. Eventually it ended up in a storage locker. I even brought it to the Antiques
Roadshow but they knew nothing about the drum but they did verify that the drum was gold plated. I researched Thos H.
Bloomingdale and found out that Sept. 22, 1934 was his 87th birthday."
1925 LUDWIG & LUDWIG 4 x 14 GOLD PLATED/ENGRAVED "WILD ROSE" TRIUMPHAL MODEL (#9)
The Shell:
As stated earlier, the drum is definitely a 1920s Ludwig & Ludwig gold plated /engraved Triumphal Model. I did notice a
few minor differences as compared to my Triumphal... 1. This drum has a 5-petal rose engraving as compared to my
drum that has a 6-petal rose engraving... 2. This drum has the "Ludwig Chicago" in the same panel as the P-338
strainer as compared to my drum where the "Ludwig Chicago" is located 2 panels to the left of the strainer. Nothing
earth shattering but interesting enough for me to pursue it further, ergo; was this a different engraver than my drum? I
know that L & L used 3-4 different engravers in the 1920s so I asked my good friend and Italy's gift to the custom drum
making world, Adrian Kirchler (AK Drums) and fellow collector, drum historian and master engraver John Aldridge to
weigh in on this. Adrian's opinion was: "it's not said that they've been engraved by two different engravers. It might also
be that they've been engraved at two different times (maybe several months in between!?). We know that there were not
many of these made, and judging from my personal experience, it's not easy to replicate the same engraving style on
more drums if you engrave them at different times .. AND without having perfect and detailed photos of the engraving on
hand (that was even more difficult in the 20s) my guess: – the 'new' drum has been engraved several months before
your and Bob's drums were engraved. - the engraver found the more asymmetric (5 petal rose) and the location of the
'Ludwig Chicago' engraving not an ideal and he changed to the symmetric 6 petal rose and central logo engraving on
later drums." John's opinion was: "I agree with Adrian on this one. I tend to refine patterns as I go. These weren't
production model drums, so variations are to be expected." Thanks to Adrian and John whose astute observations
helped me to justify this purchase. The overall condition of the shell is better than the original photos showed. The gold
plating is all there and well preserved, there was a little tarnish here and there but nothing that posed any problems in
the cleaning process.
The Hardware:
All of the gold plated hardware was also in very good condition and only needed a light cleaning. The P-338 strainer
was missing the thumbscrew tensioning back plate but I had the part in my parts stash. Les at Avenue Plating gold
plated/matched the part for me so all is good. Aside from the 5 petal/6 petal engraving patterns the engraved lugs on
this 5 petal drum are different from the lugs on my 6 petal drum.
A perfect pair of 1920s calf heads and James Snappi Wires rounded out this restoration.
Ludwig & Ludwig gold plated/engraved Triumphal Models were the flagship of the Ludwig & Ludwig Drum Co. These
snare drums are extremely rare and as John Aldridge stated: "...weren't production model drums." At $115.00 these
snare drums were not very affordable so it makes sense that to date only 9 of these have been located. Noted drum
historian Harry Cangany once told me he thinks that: "less than a dozen were made..." There are only 5 owners of
original Ludwig & Ludwig Triumphals:
1. A collector back east... 1
2. A collector back east... 1
3. Bun E Carlos... 1
4. Bob Campbell... 1
5. Mike Curotto... 5
Enjoy!
Mike Curotto